Prices from £500 (Equipment Only) or £750 (with a DJ)
LED Effect Lights Choice of Black or White DJ Booth Haze Machine Vertical columns with additional lights High quality sound system to suit your venue's size. (conditions apply)
The Exclusive Setup
This setup is our most popular option!
The exclusive setup includes all the features of the Standard setup, LED effect lights, haze machine and black and white DJ booth. The additional things you get in this package are: Moving head lighting effects that project various shapes and colours around the venue whilst sitting on vertical columns.
The entire lighting setup is computer controlled for maximum effectiveness meaning we can spotlight your first dance, your cake or any other feature where possible!
This setup goes beautifully with our LED Dancefloor we have to offer.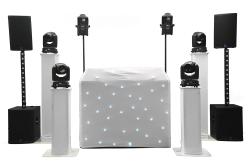 White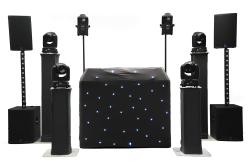 Black
We charge 2 prices for our packages. This package starts at £500 with no DJ If you wanted a DJ this package will be £750